1- Point Perspective


This app will show you have to make perspective drawings and be able to place windows, doors or objects in any depht you like. When you know how to do that you can make beautiful sketches to use when you prepare proposals for your projects. A well done perspective drawing can easy convince your client that you is the one they shall hire for the job.

A really easy way to learn perspective.
Here is a couple of screenshots.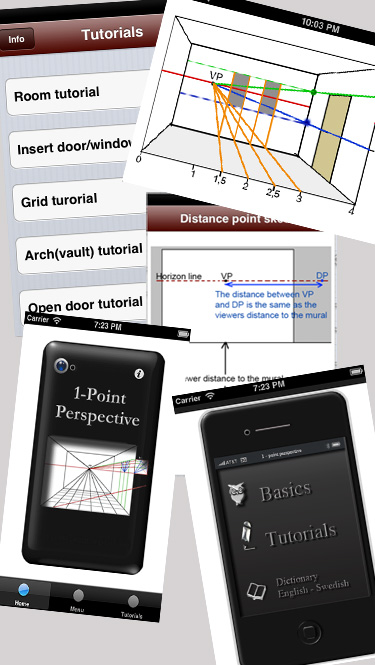 In the tutorials you scroll down for next step. In all steps you get a large picture by "singel tap"
In addition you can also "pinch" the large pictures for even larger view.
You also have a couple of animations so you see "live" how it's drawn.
There is also a camera function so you can take pictures, if you see any interesting perspective views. The app creates an album " My Sketches" where the pictures will be saved.
In Menu you find different chapters explaining the different points and lines, each chapter have example pictures.
The different chapters are:
Info
Perspective basics
Horizon line
Vanishing point
Distance point
General distance point
Using distance point
Tutorials(5 different)
How to:
Draw a room
Insert windows and door
Make a grid
Insert an arch(vault)
Draw an open door
Dictionary English - Swedish
A small dictionary for the Scandinavian users